George Bernard Shaw, highlighting the inconsistencies of the English language, once proposed a new spelling for the fish:
ghoti
. That's
gh
as in trough,
o
as in women, and
ti
as in nation.
Spelling aside, the word fish has a great cultural resonance with the British. Say it.
fshhhh.
Instantly, the sound of the word conjures up little silvery things caught off the coast of Cornwall, or a river trout cooked over a barbecue in the New Forest. Perhaps more likely though, the sound and smell of a fillet of white fish frying in batter. Fish and Chips. The best thing we gave the world outside of Monty Python and football violence. Like McDonalds and chocolate, it is a meal that transcends boundaries of class and age. Who doesn't love tucking into a steaming crisp fillet, smothered in salt and vinegar, atop fried potatoes dripping in grease? Doubly so from a wrapper, at a bus shelter on a cold winter's night.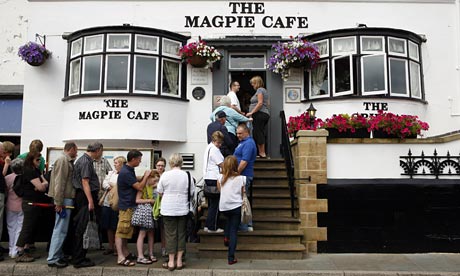 Yet Fish and Chips is such a widespread dish, there are surely infinite ways to get it right? And subsequently, get it wrong. We've all been there. The fish tastes dodgy, the batter falls apart and the chips are some godawful "french fries". How to get the meal right?
On a recent daytrip to Whitby, we ran into this very problem. Being a coastal town awash with tourists and old people on coasches, it has a glut of Fish and Chip emporiums, but only one of them has a large queue out the door on any given Wednesday afternoon. Situated literally opposite the fish market, the Magpie Café consists of a (rather swanky-looking) fish restaurant combined with a more typical Fish and Chip outlet. Clearly the stuff of local legend, we decided that it was the destination of choice for lunch.
We were proved entirely right.
The meal was perhaps the Platonic ideal of how Fish and Chips should be cooked. The cod (they'd run out of haddock) was perfectly flaky, captured in a large crunchy batter. The chips perfectly struck the balance between crisp and soggy, benefitting from being fried in what smelt like beef dripping. And the mushy peas. Oh, the mushy peas. Words cannot begin to describe quite how good the peas were. Suffice to say, they were the best. Absolute end of.
Of course, such culinary perfection comes at a price. But that price is an absolute steal. At £4.40, the fish is slightly above the average, but so completely worth it in every way. Cod, chips, mushy peas, tartare sauce and a can of shandy came to just under £8. Eaten on the beach with a healthy pinch of sand the sea breeze in my hair. Paradise.
Interestingly, had I been served a battered
ghoti, the chips would have been made out of
ghoughpteighbteaus

*

.
The Magpie Café
14 Pier Road
Whitby
North Yorkshire
YO21 3PU
*Hiccough, though, ptomaine, neigh, debt, bureau. Tenuous yes, but roll with it.