Today's delicious recipe comes via two lovely ladies
desperate to get this soup out into the cutthroat world of online food blogs. And they say fame comes hard. But seriously, it looks pretty tasty. I'm sure to try it as soon as I have the carrots! Enjoy!
Chilli flakes or 1 fresh red chilli
Peel and chop (into fairly small pieces) the carrots put in a pan and add around 1 litre of boiling water. Cut off the stalk and halve the yellow pepper, remove the seeds. Finely chop half the onion. Place the peppers (outside facing down) in an oven dish with a glove of garlic in the centre of each. Sprinkle the onions over the top and add a generous amount of olive oil. Place on a low/mid heat in the middle of the oven. Allow around 40 mins to cook the carrots and peppers.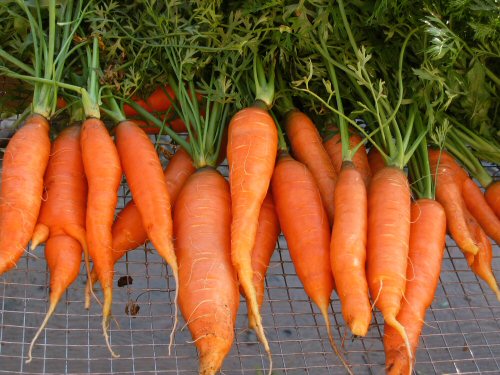 T

ake the peppers out of the oven, remove and save the garlic and chop (they should be very soft and starting to go brown). Then chop the garlic, this should just disintegrate. Add all of this to the carrots. Save the onions as garnish or as a snack for your house mate while he/she is waiting for the soup to finish. Add a pinch of salt and pepper, a splash of olive oil and the vegetable stock cube to the mixture and then add the chilli, to taste. Take off the heat and blend, a hand blender is fine.
Serve with bread and salad.
"Quick and easy, this soup rocks. The amount of chilli you put in is directly proportional to the amount of cigarettes you smoke in a day. I think we were a little overzealous with our chilli but it still tasted like sunshine and rainbows. We ate this for dinner with rolls and salad but it is a very good idea for lunch.
"